St Joseph's Parish is under the care of the Redemptorist Community. Two members serve the Parish of St Joseph's, along with the Parish Pastoral Council. A pastoral process is underway to appoint a new Pastoral Council.
On this website you will find information about the many services and facilities that are available throughout our Parish. The provision of these services reflects the commitment and enthusiasm of parishioners in terms of time and energy. For this the Pastoral Council is very grateful.
We would like to encourage more people to become actively involved so that we may continue to develop these services and activities and perhaps introduce new ones. Everyone has something to offer! In the last few years our Parish has expanded greatly and many new people have come to live among us. To these we extend a very warm welcome and Céad Míle Fáilte.
Fr Noel Kehoe CSsR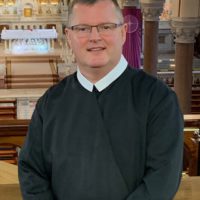 Fr Ryan Holovlasky CSsR