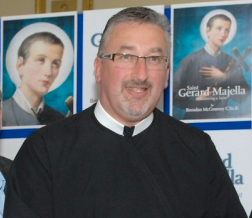 Welcome to the website of the Redemptorists at St Joseph's, Dundalk
On behalf of the Redemptorists and our co-workers at St Joseph's, I welcome you to our website. Here we share with you who we are and what we do, our call, our mission and our life.
At the heart of who we are and what we do is Christ the Redeemer, whose love and sacrifice for all people we seek to give witness to. It is our hope that this website will be another means of drawing you closer to the friendship of Christ, to experience the joy of Plentiful Redemption.
Our call to be proclaimers of plentiful redemption finds different expressions. Our church is a centre of welcome and comfort, a place of devotion in particular to our beloved brother St Gerard Majella, as well as Our Mother of Perpetual Help. Special ministries of note include our Parish (since 1976), various aspects of the training (formation) of Redemptorist students, and the availability each day of a Redemptorist for people seeking confession, a blessing, prayers, or a chat. From time to time, Redemptorists and co-workers from the community continue join our national team to preach the Gospel throughout Ireland on parish missions, novenas and retreats.
Through our website, we invite you to explore more fully our life and work. You can send us your prayer requests, light a virtual candle and also support our missionary work. You are warmly welcome!
Fr Michael J Cusack CSsR
Rector
Daily Reflection
~ 28 August ~
Prayer for an end to nuclear weapons
Peaceful God, we come to you from the midst of a broken world where nations raise weapons against nations and mothers and children are the innocent victims of violence. We cry out for peace!
Wise God, share your wisdom with the leaders of the world who continue to stockpile dangerous weapons, giving other countries the incentive to do the same, despite their commitment to the Nuclear-Non-Proliferation Treaty. We pray for the ability to overcome our brokenness, cooperating, instead of competing, across borders and boundaries. We cry out for peace!
Healing God, So many communities have been left in ruins as a result of the destruction of war. We pray for the healing and rebuilding of communities torn apart by war and violence. We cry out for peace!
God, we pray that you would inspire us to create a peaceful world. Help us call our leaders to accountability and to remind them that more weapons and war do not bring peace. Make us a peaceful people in a peaceful world. Amen.
Adapted prayer from the Center of Concern's Education for Justice project
Today is the International Day against Nuclear Tests