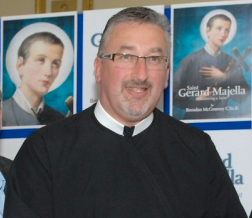 Welcome to the website of the Redemptorists at St Joseph's, Dundalk
On behalf of the Redemptorists and our co-workers at St Joseph's, I welcome you to our website. Here we share with you who we are and what we do, our call, our mission and our life.
At the heart of who we are and what we do is Christ the Redeemer, whose love and sacrifice for all people we seek to give witness to. It is our hope that this website will be another means of drawing you closer to the friendship of Christ, to experience the joy of Plentiful Redemption.
Our call to be proclaimers of plentiful redemption finds different expressions. Our church is a centre of welcome and comfort, a place of devotion in particular to our beloved brother St Gerard Majella, as well as Our Mother of Perpetual Help. Special ministries of note include our Parish (since 1976), various aspects of the training (formation) of Redemptorist students, and the availability each day of a Redemptorist for people seeking confession, a blessing, prayers, or a chat. From time to time, Redemptorists and co-workers from the community continue join our national team to preach the Gospel throughout Ireland on parish missions, novenas and retreats.
Through our website, we invite you to explore more fully our life and work. You can send us your prayer requests, light a virtual candle and also support our missionary work. You are warmly welcome!
Fr Michael J Cusack CSsR
Rector
Daily Reflection
~ 28 May ~
Communicating Hope and Trust in our Time
I would like to encourage everyone to engage in constructive forms of communication that reject prejudice towards others and foster a culture of encounter, helping all of us to view the world around us with realism and trust.
I am convinced that we have to break the vicious circle of anxiety and stem the spiral of fear resulting from a constant focus on "bad news". This has nothing to do with spreading misinformation that would ignore the tragedy of human suffering, nor is it about a naive optimism blind to the scandal of evil.
Rather, I propose that all of us work at overcoming that feeling of growing discontent and resignation that can at times generate apathy, fear or the idea that evil has no limits. Moreover, in a communications industry which thinks that good news does not sell, and where the tragedy of human suffering and the mystery of evil easily turn into entertainment, there is always the temptation that our consciences can be dulled or slip into pessimism.
I would like, then, to contribute to the search for an open and creative style of communication that never seeks to glamourize evil but instead to concentrate on solutions and to inspire a positive and responsible approach on the part of its recipients. – Pope Francis
Today is World Communications Day