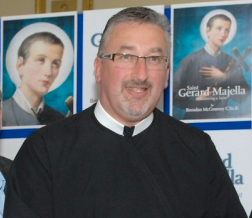 Welcome to the website of the Redemptorists at St Joseph's, Dundalk
On behalf of the Redemptorists and our co-workers at St Joseph's, I welcome you to our website. Here we share with you who we are and what we do, our call, our mission and our life.
At the heart of who we are and what we do is Christ the Redeemer, whose love and sacrifice for all people we seek to give witness to. It is our hope that this website will be another means of drawing you closer to the friendship of Christ, to experience the joy of Plentiful Redemption.
Our call to be proclaimers of plentiful redemption finds different expressions. Our church is a centre of welcome and comfort, a place of devotion in particular to our beloved brother St Gerard Majella, as well as Our Mother of Perpetual Help. Special ministries of note include our Parish (since 1976), various aspects of the training (formation) of Redemptorist students, and the availability each day of a Redemptorist for people seeking confession, a blessing, prayers, or a chat. From time to time, Redemptorists and co-workers from the community continue join our national team to preach the Gospel throughout Ireland on parish missions, novenas and retreats.
Through our website, we invite you to explore more fully our life and work. You can send us your prayer requests, light a virtual candle and also support our missionary work. You are warmly welcome!
Fr Michael J Cusack CSsR
Rector
Daily Reflection
~ 21 November ~
No matter how small
For every great saint, God creates millions of 'ordinary' people like us. He does not intend us to be a super hero and try and save the world but to carry out little acts of thoughtfulness and caring. Like having a cup of tea and a chat with a house-bound neighbour, visiting a sick friend, baby-sitting for a young mother, or mowing an elderly neighbour's lawn. These acts may not seem overly important but every good deed is significant to God and helps to offset the negatives and evil in the world.
We can all do something, no matter how small, to improve the world. God has given us a share in his work and every task is important.
Nothing is small in God's eyes. When we show care and compassion for each person in need that we meet, we are living as faithful disciples of Jesus.